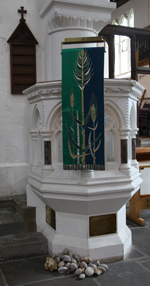 As Methodists we consider Community outreach as fundamental to our ministry, and to further that ministry Guildford Methodist Church has entered into an exciting partnership with the Parish of Holy Trinity and St Mary's, working together with other Christian churches and organisations.
Guildford Methodist Church meets at St. Mary's in the heart of the Guildford Town Centre. We have a varied pattern of worship, with most services shared with our friends from the Church of England, drawing on the ministers and rich traditions of both churches.
Weclome to our new website which we plan to develop over the coming months. If you have any suggestions for improvements please let us know at gmc.info@hotmail.co.uk.
Our Mission
Our Mission statement sums up our objective:
To be a welcoming worshipping community, working together with other Christians to share God's love, through word and action, with the people of God and further afield
Coming Up
10th Feb 2015

2:30pm

Venue: St Mary's

18th Feb 2015

12:00am

Venue: St Mary's

21st Feb 2015

6:30pm

Venue: Godalming United Church
View more...